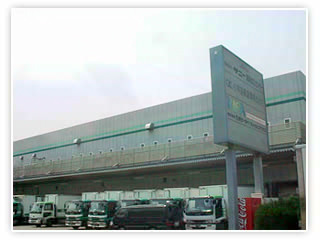 TK Produce Centre, Inc. was established in 1999 as a joint venture company of TK Produce Centre, Inc. and Tokio Fukuoka, Inc., a wholesale distributor of fresh fruit with a long-term and solid management performance in the Fukuoka market, for the purpose of creating a new supply-chain management in the local fresh produce market. We operate a distribution center exclusively for local chain store that have their stores in dominant areas, using the KIFA PLAN, a supporting system for distribution of fresh produce developed by KI Fresh Access.

 As fresh produce depends largely on weather conditions, maintaining its stable supply tends to be a difficult task for the fresh-produce sections of the local chain store in particular, which often have limited manpower resources. The major part of their daily operations mainly consists of quantity-adjusting and inquiry-responding, which leaves very little time left for more important tasks, such as merchandise development and marketing efforts.
 By solving these problems, we believe supermarkets can find a way to differentiate and characterize themselves and thus continue to grow.We are committed to create a service center for the fresh produce market to help buyers develop their commodities by carefully considering the commodity character of fresh produce in the distribution process,by grappling with quantity adjustment and other problems, and by suggesting innovative changes in the whole distribution system rather than reviewing individual operating activities.
 The KIFA PLAN allows us to systematically supervise the prior planning of product, and all the process of order entry, inspection, processing, storage, sorting and distribution. We constantly update our hardware (our facilities and equipment), as well as our software (our sales management system). Now we can confidently provide the total support system that gives our customers all the necessary logistics service, particularly required for fresh-produce sections of chain store. The service includes providing the latest information, financial advice, and liaison work between our customers'stores and their suppliers.

 We are pleased to say that since our establishment in April of 1999, our sales have been constantly increasing, and our KIFA total planning system has been well-received by our customers, who utilize our service as a way to improve their business practices such as promoting efficiency in ordering, reducing costs, and eventually increasing their sales. To the majority of our customers, our service has become a part of their business strategy.

 TK Produce Centre, Inc. will continue to maintain and develop an up-to-date system, responding to the changing times. We are also committed to work closely with our customers to provide consumers with safe and sure, fresh and low-cost produce. With these points in mind, we believe we can play an important role in increasing fresh-produce consumption and supporting local mass retailers in their operations.

May 2006

Toru Nakao
President and Chief Executive Officer

We offer the know-how and logistics to increase the sales in the fresh-produce section of mass sales stores.
corporate name
TK Produce Centre, Inc.
contracted name
TK Produce Centre
address
Tanotsu 1-18-5, Higashi-ku, Fukuoka City, Fukuoka Prefecture
telephone number
092-629-2811
fax number
092-629-2827
URL
http://www.qshukifa.com
established
March 1999
capital
50 million yen
stockholders
KI Fresh Access, Inc. 51%
Tokio Fukuoka, Inc. 49%
sales
5 billion yen
services
Fresh produce special service center operation.
Comprehensive logistical support for the fresh produce market.
principle bank
Fukuoka Bank, Takeshita Branch Office